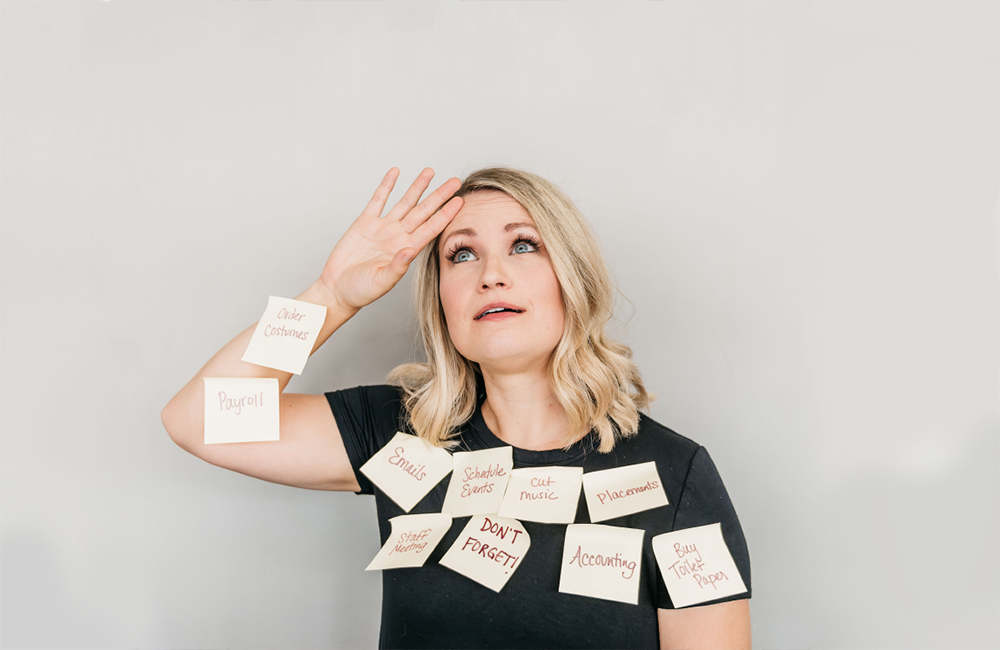 Yes…those are true words that were uttered to me. "Like, what do you do during the day. Before you come here." I'm not sure if my jaw dropped and my eyes actually bugged out of my head, or if that's just the cartoon version of myself that I pictured happening, but it took me a minute to be able to gather my words and actually respond.
I'm sure the parent had good intentions, and didn't mean it as it came out. But, as someone who spends their days worried about other people's children (and so much more), I feel the need to set the record straight. If not for at least all of my other dance teacher and studio owner friends who have probably heard it a time or two in their career, as well.
So, what do I do during the day? Well, let me tell you…
I wake up early so I can try and get a head start on the recital planning that takes up a good 8-9 months of my year. Imagine planning a wedding with three ceremonies. That has over 700 wedding gowns/bridesmaid dresses/tuxes to order and arrive and sort through. And has a couple thousand guests attending. Every. Single. Year. Have you ever heard the saying, "It's all in the details?" Well, that's a lot of details.
I answer emails about scheduling, advertising, placement, and my own continuing education.
I try to make sure I've written and scheduled out the studio's social media and any emails and reminders that have to go out that week.
I design a flier or graphic for a new program or event we have coming up.
I order toilet paper, paper towels and soap. Because that's my job, too.
I follow up with my office manager to make sure we are caught up on the happenings for the day or week, so we don't miss anything important. With three dance rooms and two music classrooms running daily, it gets busy.
I check in with my teaching staff and remind of any subs or extra events happening.
If it's a day I'm in the classroom, I try to plan my classes and playlists for that day. I might even have some music to edit. Because yes, I do that too.
I fret and worry over a child who isn't grasping a skill they desperately want to have, or a parent who is unhappy about how their child is progressing.
I swell with pride thinking about how just the day before a toddler went into the classroom without tears for the first time since they started a few weeks prior. Or how I saw the confidence grow in a student who was once shy and held back in class, but now raises her hand to demonstrate or answer questions. (That's the good stuff!)
Then there's the weeks I do payroll, or have to do fun things like have conference calls with my accountant.
I have a lot of systems in place now and with the help of an awesome team these tasks are way more efficient than they used to be, but at the end of the day it's still a job. Luckily, I do love my job and it's a very rewarding one.
But, it's so much more than just teaching dance. Than just walking in a classroom and making magic happen.
So, next time I hear "What's your real job." Or, "what do you do for work when you aren't here?" I think I might just answer, "Oh, you know. I just lay on my couch and watch Bravo while drinking coffee and eating cupcakes." Might as well make it dream-worthy, right! Then, maybe their eyes will bug out of their heads just like mine did. 😂